---
MANTEGNA ANDREA – PAINTER – His father Biagio Mantegna (humble carpenter)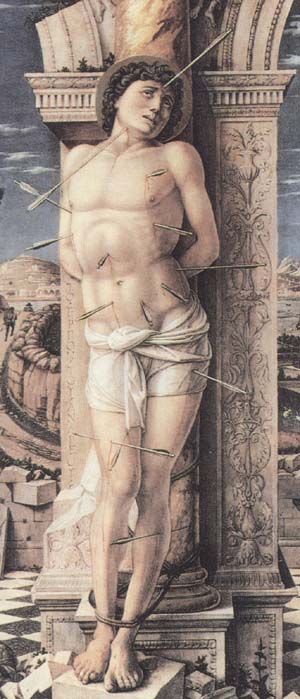 Born in "Isola di Carturo (Piazzola del Brenta) 1430 or 1431 - died in Mantova on Sept.13th, 1506
Enfant prodige with a miserable and short childhood who when he was only 10 transferred to Padova and lived care of his oldest brother in order to work in Francesco Squarcione's workshop who welcomes him almost as he were his adopted son. Padova was the fertile field already with a glorious university where it was possible to obtain evidences on archaeological researches. It is also the city where Petrarca had seeded the taste for classic antiquity. City also economically rich which could afford expensive artistic orders since 1300 to "maestri" as Giotto, Giovanni Pisano, Giusto de' Menabuoi, Guariento, Altichiero and Avanzo. It was the meeting location for Tuscany avant-garde painters and sculptors in the prospective research. Exactly during the years he spent in Padova the maximum Florentine "maestri" Paolo Uccello, Filippo Lippi and Donatello were in Padova. Donatello, during ten years, created grandiose copper sculptures, the Saint Antonio's major altar and the equestrian monument of Gattamelata.
In 1448 he completes the Saint James and Saint Christopher Stories for the Ovetary Chapel in Eremitani church where, unfortunately, there were terrible damages during world war 2. Later he was in Ferrara where he could analyze the Northern Europe art besides the Pietro della Francesca monumental style and he happened to start a very strong contact with the Bellini family. In 1451 he got married to Nicolosia Bellini and, in the same year, he painted the Pray in the garden (London, National Gallery). From 1451 till 1457 he worked on the Polittico di San Luca (Milan, Brera Gallery), Santa Eufemia (Naples, Capodimonte Gallery). 1457-1459 Pala d'altare (altar painting) – Polittico di San Zeno (Verona, Cathedral) the parts regarding the Passion are now at Louvre and at Tours Museums). In this last masterpiece there are several references to classical and archaeological styles but also a very natural aspect in the landscape is strongly emphasized.
In 1471 in Mantova he starts decorating the Camera degli Sposi (the Room where the Gonzaga Leader would sign the marriage contracts regarding his family components) where he abandons the pompous and rich gothic to pay more attention to a scientific and robust prospect aspect and to a more natural observation. At the top of its ceiling he painted a circular eye where, from a balcony, some humans and animals are looking out. All of the composition ends in a terrific prospective escaping towards the infinite sky. This perfect optical illusion will later be adopted, as an example by artists of future generations, in particular by Correggio.
From 1474 and about for the following ten years, destiny is either good to him nor to Mantova State. The artist looses his son, soon after also Marquis Ludovico, Marquise Barbara and Ludovico's successor, Federico, died. The new young Marquis Francesco II Gonzaga gives back order and reinforces the finances in the Mantova area and the art commissions as well receive an enduring recovery and energy. Mantegna builds his house in San Sebastiano quarter where he opens a circular courtyard. He also collects Roman marbles which are very much admired by Lorenzo il Magnifico; later he paints architectonic and ornamental fragments for the San Sebastiano now at Louvre.
In 1489 he accomplishes a series of water color paintings with the theme of the Caesar Triumph and finally, he goes to Rome called by the Pope Innocenzo VIII. He stays there also during 1490 and paints a little chapel (later lost) in the Vatican Palaces. The eternal city is quite a delusion to him, and, once back to Mantova he preferes to recall the memory of a little bitter and intellectual ancient city than th one he could observe during his stay.
1490-1506 Classicism and Isabella d'Este
The new well cultivated and intelligent Marquise Isabella d'Este starts a good friendship with Mantegna who also gets art inspiration from her. During this period he paints Christ on the sarcophagus (Copenhagen, museum), Madonna of the Caves (Florence, Uffizi). He starts idealizing the human body by placing it before a very detailed and clear landscape and his graphic lines becomes stronger, more evident, almost no color by obtaining bas-relief effects or a sort monochrome slightly lighted with cautious golden hints as in the series of Caesar Triumph (Hampton Court, royal palace) nine paintings considered by Vasari the real Mantegna masterpiece. Scene from the Bible such as Giuditta (Dublin), Sansone and Dalila (London,National Gallery). Also two water color canvases : San Sebastiano (Venice, Ca' d'Oro – Fraschetti Gallery)and Christ Dead (Brera, Gallery). There also are evidences about his ability as a sculptor. Among the decorations in his grave-chapel he sculptured a bronze self portrait.
In 1495 in the updated Mantova with the Marquise Isabella d'Este's tast, Mantegna begins his last masterpieces: two main paintings for the altar and a project for the decoration of the Marquise's private office. The Madonna della Vittoria (the Victory Madonna) (Louvre), the Sacred Conversion or Madonna Trivulzio (Milan, Civic Gallery). He decorates a Marquise Eleonora d'Este's private apartment in Palazzo Ducale. The paintings are now at Louvre. He paints many mythological scene where he is more and more nostalgic in the incisive graphic enriched with ornamental and landscape details while referring to an extremely felt Christian-moral lecture such as in his Parnaso with dancing Muses when Apollo plays his cetra, while all around them Vulcan, Mars, Venus, Eros, Mercury and the winged horse Pegasus reveal he is convinced about how impossible is the mysticism. It comes out even more from his painting Athena kicks out the Vices from the Virtues' garden.
When he starts the Favola di Como (Como's Fable) in 1506, also his health starts having serious problems and he decides of selling the valuable piece from his collection, Faustina bust, still at Palazzo Ducale in Mantova. During the very same year he dies.
THE ARTISTIC INHERITANCE
As already said, his innovative style – even though in the nostalgic restoration of a superb classicism school – is emulated by several later artists and not only by those ones belonging to the Mantegna's time, but it keeps being an example for Impressionist, Expressionism, neoclassicism up to overcome the Illumines and Humanism. Some well known names: Giovanni Bellini, in Veneto region area, Leonardo himself, even if he would not share the Mantegna's classic ideal, still he admired and emulated his typical decorations with flowers and fruits when decorating the ceiling at Sforza Castle – Ax Room – in Milan and the sails over the Cenacolo (Last Supper ). Correggio gets hints to make more and more courageous prospective work by ending with the Parma Cathedral Dome. During Renaissance, the German Durer, above all for his architectural representations and his perfect proportions in drawing and painting human bodies. But his successor, Giulio Romano, is against his "dry or hard" style by re-proposing the Raffaello's soft style . Despite all, the "hard" Mantegna will be selected as a model-example also by the Impressionists Manet, Degas, Van Gogh.
In the last 35 years, the Mantegna's use of the prospective has been studied again, and, publishers, in 1986 re-proposed the analysis of the relation among painting, drowing and incision in the Artist's works.