GIULIO ROMANO
PAINTER – the "nobilis vir" (gentleman) Pietro Pippi "de Ianutiis" declared of being his father, surely he was born in Rome but about the date on his birth – 1499 – there are no certainties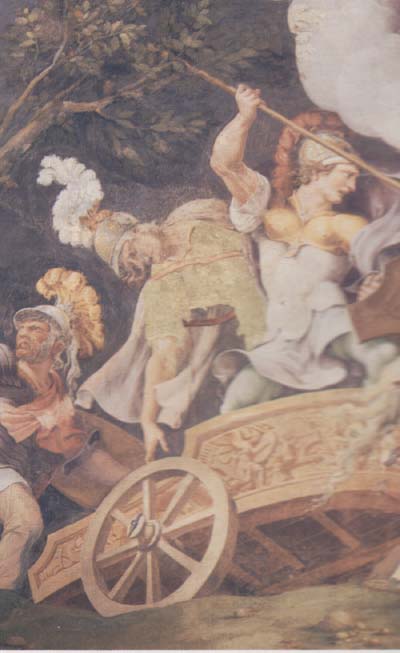 The best and more suitable description of the great artist is the one by the reliable Goethe who, during his time, greatly used to shortly declare how varied the Giulio Romano works were by saying about him that people used to consider him of being Raffaello's pupil. In Goethe opinion this consideration was too reductive when speaking of the great student Giulio Romano shows of being, that means the pupil of his century.
Above all he gets from Raffaello three of his huge natural gifts: 1) the artistic versatility, 2) the creation applied to several and varied fields, 3) the complete control over the cultural and artistic aspects in Mantova during Federico Gonzaga reign.
No long before, Mantova had lost Mantegna. In addition, Isabella d'Este - Federico's mother has a passionate love for "cose antique". Both things induced Giulio to propose, even for a short period, a secular descriptive style different from Mantegna's dry styles from which he is different by having inherited the soft ones from Raffaello. Anywise, starting from the third decade of 1400 his personal artistic imprint has strongly become very clear and recognizable to the point of becoming something to refer to regarding all of the culture items in northern Italy.
Around 1515 he started his artistic training in the Roman Raffaello Sanzio Workshop while collaborating to decorate the Vatican Rooms and Terraces, The Farnesina Psycho Terrace besides his interventions for many of the late Raffaello canvases as: Madonna with Child and Saint Young John (Paris, Louvre), Madonna Spinola and Madonna Novar (Edinburg, National Gallery of Scotland).
Vasari describes him: "having strong basis, proud, self confident, capricious, varied, "abundante et universale" (generous and universally inclined). In order to give evidence of his high affection for the great Maestro Raffaello, he adds: "he sweetly conversed, and he always was pleasant, nice and filled with good manners so that Raffaello couldn't have loved him but in the way as if he were his son; therefore Raffaello always involved him to work for his most important commissions.
G. Romano very first autonomous Masterpiece is Giovanna d'Aragona portrait (Paris, Louvre). When Raffaello died on April 6th, 1520, his Workshop including all of his unfinished commissions were inherited by Giulio Romano and Gianfrancesco Penni who had shared a five year experience at Raffaello's school and they had an artistic and human nature in common.
Meanwhile he subscribes a contract for completing the Crown of Monteluce Virgin (Rome, Vatican Gallery).
Some more of his Works completed in the same laps of time are: Christ in glory with four saints, (Deesis – Parma, National Gallery), Madonna Hertz (Rome, Barberini Palace), Fugger Sacred Conversation (Rome, Santa Maria dell'Anima) and the sketches for the Modes series so called for the particular theme regarding the different positions of sixteen couples during their making love.
As regards the range of his private and affective life his sort was rather sad. In 1523 while his sister was giving him joy for getting married to a good man, two of his brothers and two of his sisters died. Also, his finances were not good since he had to use almost all of his earnings when he received the payment for his Transfiguration (Rome, Vatican Gallery).
In 1526 he was nominated by Gonzaga "supreme responsible for the streets and prefect for any constructions" thanks to his talent showed by documents regarding some of his architectural projects for Roman Villas and Palaces. In 1525 he had already started the construction of Palazzo Te (from the medieval term Teieto which denoted a wide and hilly green slope behind the southern Mantova city walls). Soon after he became the personification of the director for the court life exactly like Raffaello Sanzio was in Rome under Pope Leone X.
The first room he painted and decorated is the Horses'. He made regular size portraits of the best horses which were, in fact, among the Duke's highest passions besides being his best commerce. Also, he painted the Hercules' Stories just over the horses to emphasize the Duke's war ability. The Love and Psycho Room of which he gets hints from the Apuleio Metamorphosis, where the artist was searching a religious arrival besides the erotic and secular content. It will be a pattern for the future mannerist painter generation.
He made the very same research for the Giants' Room when painting the Ovidio "Gigantomachia" after the Giants assaulted Gods' Mount Olimpo Zeus punished them by provoking a tempest of stones and rocks with the clear allusion to the fall of the angels after they rebelled to God.
Unfortunately, after several sacks and invasions suffered by the city, the Palace received terrible damages and, at the beginning of 1900, after the city walls were destroyed and the Te Island delimitating canal was leveled, the Palace will be integrated in the Mantova suburb and its same location within the city and its surrounding landscape will disappear.
LAPS OF TIME SPENT IN MANTOVA AND VICINITY 1526-1546
During the nine years spent while working at Palazzo Te, Giulio Romano designs and completes several more commissions among which a marble monument dedicated to a female dog (1526), the restorations of an army captain's house (1527), the funeral mask of Giovanni dalle Bande Nere (1526) and the project of the monument in memory of Pietro Strozzi. Also he built the no lasting apparatus hosting Charles the 5th visiting Mantova (1530) including a boat bridge on Po river, a column 35 meters high which was located in Duomo Square. It was decorated with inscriptions containing noble meanings and on the top a statue of a victory holding a laurel branch. In 1529 he marries Elena di Francesco Guazzi with whom he will share his life in their house in "Unicorno" city quarter until his death.
In 1531 when the new-Duke Federico Gonzaga married Margherita Paleologa he was busy in adding some more rooms to the Mantova castel, the Gonzaga official residence and the Mantova State Department Administrative Center. In 1535 Ettore the 2nd d'Este after being impressed by the outstanding Giulio Romano works at Mantova castel, asked Gonzaga to allow him to invite the artist to go to Ferrara to care about the restorations of its Palazzo Ducale which had suffered several damaged after a big fire. With this request, the Duke of Ferrara starts a long series of Giulio Romano short trips in order for him to satisfy at least a small part of the several commissions he was receiving from many cities as: Casale Monferrato (1536), again Ferrara (1537), Bologna and Reggio Emilia (1538).
Giulio had being suffering for his eyes for some time by then. This disability forced him to abandon his usual committed dedication to his work even keeping to accept and terminate the following many commissions. From 1538 to 1540 he completed the Palazzo Marmirolo paintings, the Gonzaga residence. He built the Rustica pavilion at Palazzo Ducale; after he worked for the court of Carlo Bologna in Marengo. Finally the Federico Gonzaga funeral apparatus in Santa Paola Church, completely and radically changing the church aspect itself.
After Federico Gonzaga died, the Cardinal Ettore Gonzaga ruled the ducato. He didn't care about art not knowing enough of it, therefore G. Romano made his work journeys longer and longer and he went back to Mantova to complete his last work of reconstruction of the inside of the Duomo before his death on November 1st ,1546. According to Vasari, an offer for the role of architect to take care of Saint Peter Complex had been delivered to him just a few days before his death.