Caravaggio - Michelangelo Merisi
The Prince of the Rebels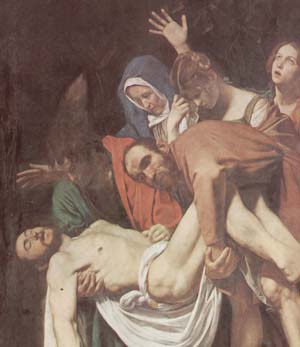 His name was Michelangelo Merisi and he was born in 1571 in Milan, but someone thinks that his place of birth was Caravaggio.
His parents, Fermo Merisi and Lucia Aratori belonged to the middle class, his father actually was an architect, a drawer, and most important, he was a man who owned properties and received a salary from (by) the Sforzas.
When Caravaggio started his career as painter, in between the 1500 and 1600, the Italian society was characterized by economic instability, rich people were the only people who could have a normal and happy life. The society was corrupted. Caravaggio grew up in a rich cultural environment, but he lost his father when he was a kid, in 1577.
When he was thirteen years old he started to work in the office of a great painter, Simone Peterzano and he started to earn small amounts of money. He loved painting still life: colored and "real" fruits that represented the ostentation of the human life.
When he was in Milan, he killed a man during a fight. After the murder, his relationship with is family changed radically. He left Milan and he moved to Rome.
When in Rome, after he saw the death corps of the people condemned he thought that it was his place. He was a bad guy with long hair, a young man who burned with passion, evil and good at the same time. Caravaggio represented both a devil and an angel, he was a genius, sometimes violent, but he was also romantic when he painted for the love of his life. His lover's name was Maddalena Antonietti.
He earned some money working for a painter named Lorenzo, and for another painter Antiveduto Gramatica. He was inspired by subjects like poor kids and musicians.
He loved the contrast between lights and shadows, sin and dark, madness and redemption. At the beginning of his career he did not have money, he wore dirty clothes and he spent sometime in jail, because of his bad and rebel behaviour.
He was arrogant and violent, he used to fight even for some food, he was always ready to use his knife to hurt someone. On the other hand he was the only painter at that time, who could paint the real life, the dirty and corrupted society which had nothing good. Fortunetely a mentor like Mastro Valentino found Caravaggio's painting great and sold them in Rome. The Cardinal Francesco Maria Borbone del Monte loved Caravaggio's style and invited the artist to join the group of young artists that worked for him. At this point Caravaggio started to develop new interests, he started to get involved with mucic instruments, he chose musicians as new subjects (Suonatore di Liuto) and he experimented a new kind of art.
In 1599 Francesco Maria del Monte asked Caravaggio to finish the frescoes in the Chapel of Gregorio Xlll. Unfortunately Caravaggio could not paint frescoes, so he decided to paint on canvas. The characters on the "Vocazione di an Matteo" wore traditional dresses. the artist used a perfect tone of light. Although not everybody appreciated the real interpretation of religious subjects, Caravaggio and his painting had a great success. In the same period he painted his best works: Crocifissione di San Pietro, Caduta di San Paolo. He also had some problems with the law, he was condemned five times, but he received the held of some rich families (the Sforzas, Colonnas, etc...).
He had to live his flat, because he could not pay the rent and he lost his properties. In his flat were found a lot of good, like jewelry and documents, and a wall completely painted. A mirror had been hanged on the ceiling to help him painting. Some experts noticed that he used hears in his paintings to set perspectives and draw in a tridimentional way.
In 1606 during the game of the pallacorda with some friends, Caravaggio got into another big fight and he killed Ranuccio Tomassoni da Terni, a man who worked for the Pope.
He was condemned to death by all the Vatican, so he went to Naples. Eventually he left to Malta, protected by the Order of the Knights of Malta, a religious group that used to take care of rich but vilent kids. In that period he painted the "Alof de Wignacourt", a great painting that right now is in the Louvre.
After a short time he got arrested again and imprisoned, he could escape somehow. He moved back to Italy, first Naples, then Syracuse, Palermo. Once in Naples he asked the Pope to be forgiven, but the Knights of Malta found him and beat him. Caravaggio was infected with the Malaria, he died in 1610, all alone in the hospital. We do know nothing about his body, all his life is a legend.
His most important works are:
• 1593/94 Fanciullo con canestro di frutta Roma – Galleria Borghese
• 1593/94 Bacchino malato Roma – Galleria Borghese
• 1593/94 Buona ventura Roma – Pinacoteca capitolina
• 1594 I bari Fort Worth – Kimbell Art Museum
• 1594/95 San Francesco in estasi Hartford, Connecticut - Wadsworth Atheneum
• 1594/95 Maddalena penitente Roma – Galleria Doria Pamphilij
• 1595 Concerto New York – The Metropolitan Museum of Art
• 1595/96 Suonatore di liuto San Pietroburgo – Ermitage
• 1595/96 Ragazzo morso da un ramarro Londra – National Gallery
• 1595/96 Riposo durante la fuga in Egitto Roma – Galleria Doria Pamphilij
• 1596/97 Bacco Firenze – Galleria degli Uffizi
• 1596/97 Buona ventura Parigi – Museo del Louvre
• 1597 Santa Caterina d'Alessandria Madrid – Museo Thyssen-Borbemisza
• 1597/98 Canestro di frutta Milano – Pinacoteca Ambrosiana
• 1597/98 Davide e Golia Madrid – Museo Nazionale del Prado
• 1598 Medusa Firenze – Galleria degli Uffizi
• 1599 Giuditta e Oloferne Roma – Gall. Naz. d'Arte Antica, Pal. Barberini
• 1599 Narciso Roma – Gall. Naz. d'Arte Antica, Pal. Corsini
• 1599/1600 Vocazione di San Matteo Roma – S. Luigi dei Francesi, CappellaContarelli
• 1600/01 Martirio di San Matteo Roma – S.Luigi dei Francesi,Cappella Contarelli
• 1600/01 Conversione di San Paolo Roma – S.Maria del Popolo, Cappella Cerasi
• 1600/01 Crocefissione di San Pietro Roma – S.Maria del Popolo, Cappella Cerasi
• 1600/01 Incredulità di San Tommaso Potsdam-Sanssouci, Stiftung Schlosser und Garten
• 1601 Cena in Emmaus Londra – National Gallery
• 1602 San Matteo e l'angelo Roma – S.Luigi dei Francesi, Cappella Contarelli
• 1602 Cattura di Cristo Dublino – National Gallery of Ireland
• 1602 San Giovanni Battista Roma – Pinacoteca Capitolina
• 1602/03 Amor Vincit Omnia Berlino – Dahlem Gemaldegalerie,Staatliche Museen
• 1602/04 Deposizione Città del Vaticano – Pinacoteca Vaticana
• 1603 Incoronazione di spine Vienna – Kunsthistoriches Museum
• 1603/04 Sacrificio di Isacco Firenze – Galleria degli Uffizi
• 1604 Morte della Vergine Parigi – Museo del Louvre
• 1604/06 Madonna dei Pellegrini Roma – Sant'Agostino, Cappella Cavalletti
• 1605/06 Madonna dei Palafrenieri Roma – Galleria Borghese
• 1605 San Francesco in meditazione Roma – Chiesa del Cappuccini
• 1605/06 San Gerolamo Roma – Galleria Borghese
• 1605/06 San Francesco in preghiera Cremona – Pinacoteca del Museo Civico
• 1605/06 Davide con la testa di Golia Roma – Galleria Borghese
• 1606 Cena in Emmaus Milano – Pinacoteca di Brera
• 1607 Madonna del Rosario Vienna – Kunsthistoriches Museum
• 1607 Davide con la testa di Golia Vienna – Kunsthistoriches Museum
• 1607 Sette opere di misericordia Napoli – Pio Monte della Misericordia
• 1607/08 Flagellazione di Cristo Napoli – Museo e Gallerie Naz. di Capodimonte
• 1608 Ritratto di Alof de Wignacourt Parigi – Museo del Louvre
• 1608/09 Ritratto di fra Antonio Martelli, Cavaliere di Malta Firenze – Palazzo Pitti
• 1608 Decollazione di San Giovanni Battista Malta, La Valletta - Orat. di S. G. B.dei Cavalieri
• 1608/09 Seppellimento di Santa Lucia Siracusa – Museo Nazionale di Palazzo Bellomo
• 1609 Resurrezione di Lazzaro Messina – Museo Regionale di Messina
• 1609/10 Negazione di San Pietro New York – The Metropolitan Museum of Art
• 1609/10 Martirio di Sant'Orsola Collezione Banca Intesa