Francesco Borromini
Antagonist Genius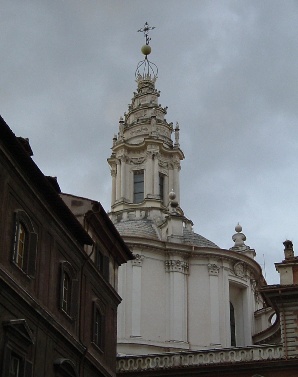 He was born in 1599 in Bissone (Lugano). His real name was Francesco Castelli, but he changed it in Borromino, because of his devotion for S. Carlo Borromeo.
San Carlo Borromeo was very famous at that time, his family was incredibly rich and they used to help poor people. He spent his life among the most desperate people, helping them and living as a slave of God. Borromini's father sent him to Milan when he was still a kid, to work as a stone-cutter and to learn all the rules of this hob. He walked all the way to Milan, he worked at the Duomo, then he visited all the churches in Ravenna, where he loved the arcaic and oriental style. When he went to Rome he stayed at Leone Garopo's house. Garopo was his cousin, but most of all he was friend with Bernini. Bernini was already famous, everyone knew him in Rome and Borromini wanted to work with him. Leone Garopo was like a mentor for Borromini and he always used to talk about Bernini's talent. Eventually when he died, Borromini found another teacher Carlo Maderno. Borromini worked as stone-cutter first in the Church of Sant'Andrea della Valle (1621-1623) then in the factory of S. Pietro (1624-1630) where he became a "Maestro".
Carlo Maderno died in 1629, after that Borromini worked for Bernini, helping him with the Baldachin. The contrasts between the two artists became more serious; finally in 1634 Borromini started to work by himself. His first work as an independent artist was the Church of San Carlo alle Quattro Fontane (The façade of the Church was actually his last work in 1667). In the Church of San Carlino we can notice the perfect combination between the concave and the convex. Unfortunately he could not see his whole work finished, because he killed himself before. He received a lot of critics, because of his style, that was completely different from Bernini's style. Borromini used the lines, he created new shapes (he loved the arabesques for instance). He gave more importance to the continuity of the rhythm, than to the majesty of his works. In 1640 he met Orazio Falconieri,that asked Borromini to work on the old Palace bought from the Dukes of Laterza. The artist gave the Palace the importance and the beauty that ut deserved. In 1642 he started one of his most important works, S. Ivo alla Sapienza, that is considered Borromini's most intense work. (he used intricate shapes and lines). Borromini's artistic life was an endless competition with Bernini, so that he felt incredibly satisfied when Bernini's bell-tower in S.Pietro was demolished and he was umiliated in front of the richest people in Rome. These two artists are very different from each others: Bernini used more creativity, while Borromini had always been inspired by his criptic wisdom, following the advices of his friend Attanasio Kircher. Kircher's books had always been a source of inspiration for Borromini. In 1646 Borromini started to work on the Basilica of S. Giovanni in Laterano, but in 1650 a tragedy compromised part of the work of the artist. A man, whose name was Marco Antonio Bussone hit the decorations of S. Giovanni in Laterano with a stone. Finally Bussone was murdered by accident, because the co-workers of Borromini punched him to death. The artist was banished from Rome. In 1653 he was accepted again in Rome and started to work on the Church of S. Agnese in Agone, to build a private Chapel for the Pope. Borromini also changed the façade of the Church (created by Carlo and Girolamo Rainaldo) because he thought it was too simple. he created a Church that could "receive people with open arms". Borromini was absolutely absessed with his sense of perfection, his spent his life with his books only, he did not get along with his co-workers. Even if he was tired, and after he had some problems with the Pope he created the Oratory of the Filippini in Santa Maria in Vallicella. This last relatively good period of his life, let Borromini start his last work, San Carlino alle Quattro Fontane. He killed himself (someone thinks that he was helped by one of his students) when he was 68. Even Bernini showed his great sorrow for this loss.
His most important works are:
• 1621-23 Cupolino di Sant'Andrea della Valle a Roma
• 1624-30 Palazzo Barberini a Roma – Scala ellittica and intervention on the Facade posteriore
• 1629 Copertura superiore del Baldacchino di San Pietro in Vaticano
• 1634-67 Convento e Chiesa di San Carlo alle quattro fontane a Roma
• 1635-50 Trasformazione di Palazzo Carpegna, today Accademia di San Luca a Roma
• 1636 Cappella di Santa Lucia in Selci a Roma
• 1637-50 Convento e Oratorio dei Filippini a Roma
• 1640 Trasformazione di Palazzo Spada a Roma
• 1639-41 Trasformazione di Palazzo Falconieri a Roma
• 1640-42 Altare dell'Annunziata nella Chiesa dei SS. Apostoli di Napoli
• 1642 Trasformazione della Chiesa di Sant'Ivo alla Sapienza a Roma
• 1642 Trasformazione della Chiesa di Santa Maria dei sette dolori a Roma
• 1644 Tomba Merlini in Santa Maria Maggiore a Roma
• 1645-50 Trasformazione Palazzo Pamphili a Roma
• 1646-49 Restauro di San Giovanni in Laterano a Roma
• 1647-66 Chiesa e Collegio di Propaganda Fide in Roma, Cappella dei re Magi
• 1650 Ampliamento del Borgo di San Martino al Cimino
• 1653-57 Rifacimento di Sant'Agnese in Agone a Roma
• 1653 Cupola e campanile della Chiesa di Sant'Andrea delle Fratte a Roma
• 1662 Cappella Spada nella Chiesa di San Girolamo alla Carità a Roma