1600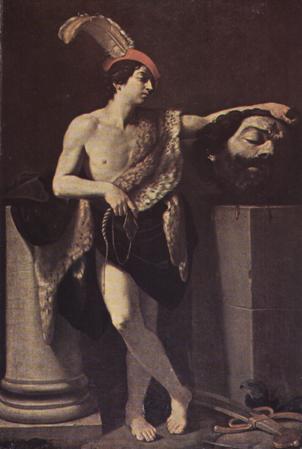 The absolutely greatest style in 1600 was the Barocco. This style was the opposite the typical Manierist elgance, the elaborated compositions, the exhagerated intellettualism. The Barocco showed exuberance, dynamism and surprise.
New artists like Bernini, Borromini, Rubens and Rembrandt refused the typical refused the typical values of the Renaissance: the sense of measure, composure and Balance.
Appaerently these artists were very different from each other, but they all had the same values: Rush, Contrast, Movement and their relationship with forms and structures, light and color.
The Carracci refused the Manieristic theories; their School, which was called first " del Naturale" and then "degli Incamminati" had a lot of success.
They created a new classic style,that for certain aspects was inspired to the greatest artists of 1500: Tiziano's sense of color, Correggio's light.
Guido Reni, il Guercino, Francesco Albani learned a new concept of culture from the Carracci.
The "Corrente Classica Romana" had similar aspects with the Style of Carraccis. The most important artists who belonged to this school were Nicola Poussin and Claude Lorrain; they lived for a long time in Rome and got inspired by the countryside and the ruines in Rome. The Court of the Pope represented a very important centre of culture in Europe, with the most important events of the Century.
As a matter of fact the Catholic Church and the biggest European Monarchies were the epicentre of the luxurious Baroque Style.
For how to concern the Painting, Michelangelo Merisi da Caravaggio became the biggest representative of that century. He prefered the use of strong but realistic colors, instead of the Accademic Manierism. The most important disciples of Caravaggio in Italy were: the Gentileschi (father and daughter), and Manfredi, Rubens Rembrandt, Velasquez.
Bernini was a sculptore and Architect, he created a new approach to the light and the space (Colonnato di San Pietro).
Borromini was more dramatic and he was aimed at the perfection of geometric forms (S. Ivo alla Sapienza, S. Carlino alle Quattro Fontane).
In Emilia and Lombardia the Cardinal Federico Borromeo acted as patron and reformer, he discovered the talent of some new great artists: Procaccino, Gian Battista Crespi, Morazzone. In the South of Italy, in Veneto and Liguria the local artists worked on their own interpretation of Style, inspired by the Roman Baroque Style.
In the first half of the century in France there were two different artistic movements: The Classic one and the other inspired to Caravaggio.
The Architecture in France reached the biggest importance, thanks to those Artists, that worked with Luigi XlV (Re Sole): Monsard, Le Van and Perrault.
The Golden Century had a huge impact also in Spain with the activuty of Zurbaran and Velasquez. In 1600 began a period of anourmous artistic value in the Netherlands. Rembrandt (Ronda di Notte, Cena in Emmaus) proposed his own point of view about the light in the space. In Great Britain developed a rigid Classicism inspired to Palladio. A style called "Kano" had a huge success in Japan.