MASACCIO
The young rebel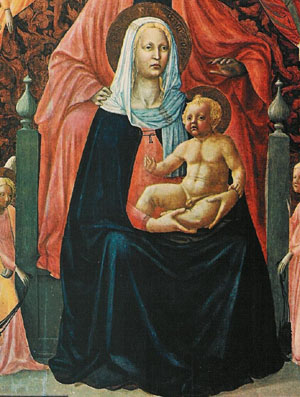 MASACCIO WHOSE REAL NAME IS "TOMMASO DI SER GIOVANNI": PAINTER, MEDICAL DOCTOR SPECIALIZED IN PREPARING DRUGS 1401-1428
Tuscany artist who gets from Giotto the hole range of ideal reality even emphasizing it.
He largely contributes to distance the simple esthetical expression along with the felt artistic must to document, through forms, colors, lights, shades, the real word where humanity struggles to survive, from the pompous gothic expression. Such a value is later reprocessed by Michelangelo.
While also being a dedicated researcher in medical drugs branch, his profound nature knows how to comprehend human sorrows and, as a result, he can express it through his art by obtaining the maximum "document paintings of human souls' emotions".
I SUOI MAGGIORI CAPOLAVORI
PERIODO
TITOLO
ALLOCAZIONE
1422 Trittico di San Giovenale Cascia di Reggello, Pieve di San Pietro

1425 Storie si San Giuliano Firenze, Museo Horne

1425 Sant'Anna metterza ( Masolino e Masaccio) Firenze, Galleria degli Uffizi

1425-26

Cappella Brancacci Firenze, Santa Maria del Carmine: dipinti attribuiti a Masaccio:
- Testa maschile e Testa femminile
- La tentazione di Adamo ed Eva
- La cacciata dal Paradiso terrestre
- Storie di San Pietro – Il Tributo
- Storie di San Pietro – San Pietro risana gli infermi con la propria ombra
- Storie di San Pietro – La distribuzione dei beni e la morte di Anania
dipinti attribuiti a Masolino e Masaccio:
- Storie di San Pietro – La predica di San Pietro
- Storie di San Pietro – Il battesimo dei neofiti
- Storie di San Pietro – San Pietro guarisce lo storpio e la resurrezione di Tabita
dipinti attribuiti a Masaccio e Filippino Lippi:
- Storie di San Pietro – La resurrezione del figlio di Teofilo e San Pietro in cattedra
- Madonna in trono col Bambino e quattro angeli Londra, National Gallery
- Crocifissione Napoli, Museo e Gallerie Nazionali di Capodimonte
- 4 pannelli con Sant'Agosino, San Girolamo, due Santi Carmelitani Berlino,Staatliche Museen
- Martirio di San Pietro e San Giovanni Battista Berlino, Staatliche Museen
- Adorazione dei Magi Berlino, Staatliche Museen
- Storie di San Giuliano e di San Nicola Berlino, Staatliche Museen
1426 San Paolo Pisa, Museo Nazionale di San Matteo

1426 Sant'Andrea Malibu, J. Paul Getty Museum

1426-27

Madonna col Bambino (Madonna Casini) Firenze, Galleria degli Uffizi

1426-27

Trinità Firenze, Santa Maria Novella

1427 San Girolamo e San Giovanni Battista Londra, National Gallery